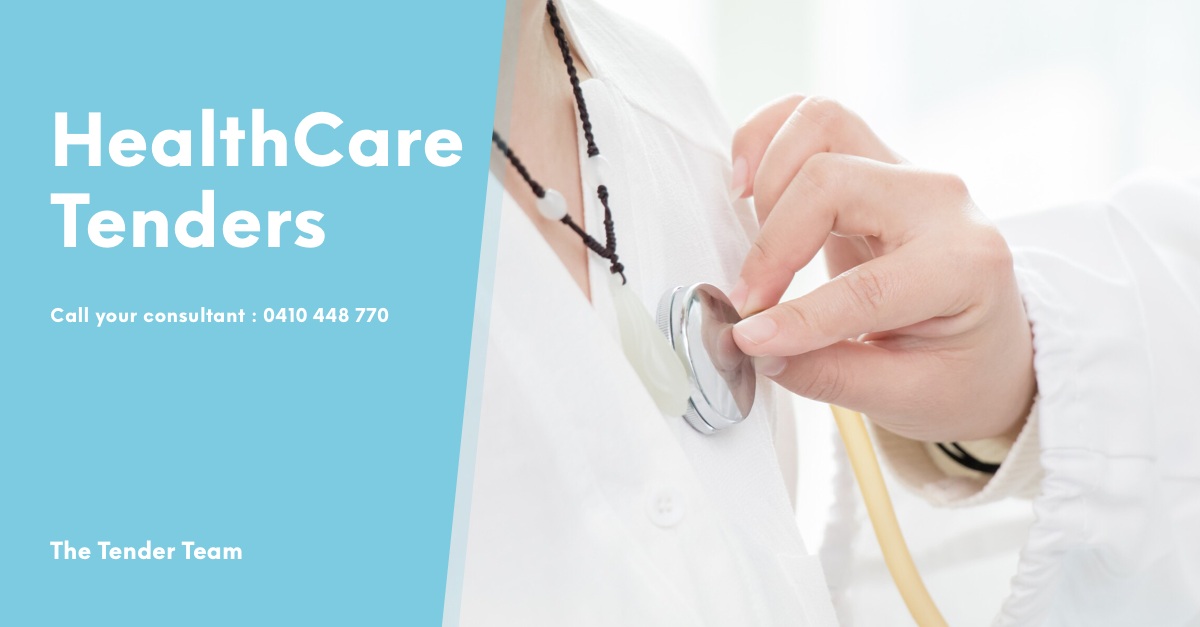 HealthCare and medical industry tender writing is as much about the healthcare industry as it is about general tender writing techniques. Given the complexity of the industry it is important to take a highly detailed, organised and thorough approach to writing healthcare tenders.
You need to keep your audience in mind, and use simple English where appropriate. The industry is vast and includes a range of adjacent industries such as equipment supply and recruitment. Our Healthcare tender writing team has drafted successful tenders to private and public healthcare organisations such as the Prince of Wales Private Hospital and Uniting Care, as well as state and federal government deparments. We are well resources and have the skills and expertise to assist with your next tender.
Medical
Our team of tender writers is experienced in drafting and coordinating medical tenders. We understand the complexities of putting together a large medical tender and the rapidly changing nature of the market. From government medical tenders to private tenders such as the provision of medical evacuation services, we know how to identify your key points of difference and align them to your target clients. Our team of writers are experienced in drafting tenders in the medical industry and will work with you to update your current content where required.
We have completed medical tenders for the supply of medical equipment and provision of medical services for a range of clients spanning small businesses to large corporations. Successful medical tenders we have completed include for the provision for after hours doctor service in a regional and remote location, provision of psychology services in remote Queensland and the supply of syringes and other equipment to Royal Prince Alfred Hospital. As tender writing consultants, we incorporate win themes and introduce graphics where appropriate, and know how to answer the questions that often appear in medical tenders these days, and aren't really related to the medical industry at all.
Aged Care
We have helped a number of organisations win aged care tenders through developing a compelling value proposition, clearly and concisely communicating your key points of difference and why your organisation should be appointed to provide the product or service. The sector is highly regulated, and it is important to submit a bid that complies with the requirements and assures the reader of your credibility and capability to deliver.
In addition to navigating the complex regulation in place in the aged care tender, you need to provide appropriate supporting documentation for your tender response, and ensuring it complies with ISO or other requirements. Our consultants will help you compile a bid that is compelling, and will convince the reader not only of your capability to deliver, but also your experience, expertise and know-how to deliver. We have assisted businesses that work in the aged care sector including suppliers of product and operators.
Pharmaceutical Tenders
The pharmaceutical industry is highly competitive and heavily regulated. At a retail level, pharmacists and pharmacies compete for supply and service contracts, whilst on a wholesale level three are tender for supply of medicines and other products. We work with you to identify suitable tenders and grants, and are able to act as a temporary resource should your bid and tender team have overflow.
How will we help you?
Our team of writers, led by our Director Jason Cooney, will:
Project manage the tender response from start to finish
Communicate with your internal stakeholders to gather the necessary information
Incorporate readability and
Provide strategic advice
Write with flair
Incorporate win themes throughout the content
Draft and develop supporting documentation where required such as quality assurance plans.
Provide Bid/No Bid advice.
We will quickly understand you business, and will become an extension of your team, liaising with internal stakeholders and coordinating the tender response. Sometimes, we help clients for a few weeks, other times for a single tender, and sometimes we assist for a range of tender responses. We can also help you hire a full time bid and tender writer if that alligns with your needs. Either way, we are here to help.
We provide fixed pricing, a highly responsive 24/7 service, and the comfort of knowing you have an experienced consultant assisting with your tender submission. Our consultants are able to work as part of your team or provide our service remotely.
We will work with you to help you draft a winning response, we will take the time to understand your organisation, the competitive landscape and what key win themes you are putting forward in the tender. Our team will identify your key strengths, work to them, and develop a tender database as part of the tendering process for your future reference.
Call us on 0410 448 770 to discuss how you can improve your prospects of tendering success or email us at info@thetenderteam.com.au with your documents for a quote.