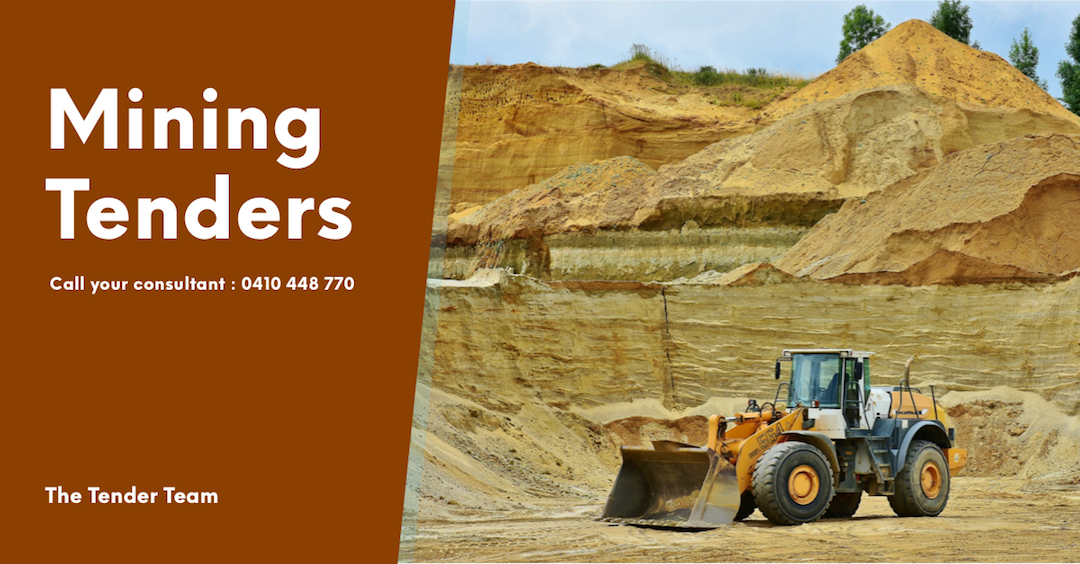 Winning resources and mining industry tenders
Our consultants understand the nuts and bolts of mining tenders and have helped hundreds of businesses draft tenders to and associated with the mining industry. Strategies and tips for winning tenders in the mining and resources industry you can adopt include:
Focusing on the long term
Throughout your bid, it is important to focus on the entirety of the contract. For example, if you are proposing to deliver maintenance services to the mining industry, you need to discuss your continuous improvement processes, and the ability to consistently deliver a quality service.
In addition to a transition in and mobilisation plan, a comprehensive transition out plan is generally required. Remember with both plans, to go into detail and explain each and every line item.
Another way to demonstrate a long term approach is to foresee potential issues in the future and talk about how you will deal with them. Discussing how you will address and overcome potential challenges a year or two into a three-year contract will demonstrate your commitment to delivering and meeting KPIs and SLAs over the length of the contract.
Finally, focus on quality. This is particularly relevant for the provision of products to the resources and mining industry.
Detail your experience 
It is easy to detail your previous experience in a tender response. Most tenders will ask you to provide examples of previous clients and a description of the goods or services you delivered. This is an opening to illustrate a lot more than simply your general experience and the services you provided.
Create detailed case studies of projects with similar requirements. Openly discuss the challenges you encountered and how they were overcome. Talk about the similarities between the proposed contract as well as the previous project or contract you provided.
Finally, outline the name and role of each team member involved in the project, and talk about if they will also be involved in the proposed project.
Taking a broad view of a case study and your previous experience will benefit your tender response and show the reader that you have a grasp of the requirements of the tender. For example, although it is not always requested, when detailing a previous case study or experience, you should cover areas such as safety, quality assurance, successful transition in / mobilisation and continuous improvement initiatives.
Get your supporting documentation correct
In some industries, you can get away with it, but in the mining and resources industry when you are putting forward supporting documentation together with your bid it's important to get it right. For example, if you do not have an ISO certified WHS management system, you may need to include your entire WHS management system in as part of your tender response. If the project or service you are tendering for requires specific, high-risk safe work method statements, these need to be included. This demonstrates that you have an appreciation of the safety demands of the project. Simply attaching your general WHS system will not suffice.
Who have we helped?
Over the years, we have helped a range of industry stakeholders secure mining and resources contracts including:
Mining companies to secure contract and licenses in NSW, QLD and WA.
Construction companies to secure mining and maintenance contracts on large mining sites.
Assisting Fire and Rescue, and other industry stakeholders to secure contracts with oil and gas, mining and resources companies.
How we can help you win more tenders



Our team of tender writers can help you with all aspects of the tender response including:
Capture planning
Developing win themes and storyboarding
Writing your bid or tender
Developing graphics and infographics
Writing and developing supporting documentation
Reviewing your tender response and providing strategic advice on improvement.
Our expertise and experience
Our bid and tender writing consultants are experienced in all aspects of tender writing and bid management. We service companies and business across Australia, large and small, with their requirements for tenders in the mining and resource industry.
Our expertise extends across the mining industry to include drafting tenders for equipment supply to major tier-1 miners, as well as applications for tenements in Australia and New Zealand including in Western Australia, Perth, the Pilbara, NSW, Sydney and Queensland. We understand the importance of occupational health and safety and quality assurance in the mining industry. We've helped write bids and submission to resources companies including Glencore, BHP, Rio Tinto and Fortescue Metals Group.
Our experience in drafting mining tenders extends to include drafting tenders and bids for associated service companies. We understand the processes miners undertake to procure equipment and services, and draft content with the correct tone, language and information.
The nature of resources and mining tenders
Mining tenders can often be increasingly complex, particularly when you are submitting to government for mining sites and tenements. Graphics are often necessary at this level in order to summarise complex solutions in a simple and effective manner. It's also critical that you allocate the appropriate resources for drafting the relevant documentation and editing the document. Internal stakeholders need to be actively project managed to ensure you submit a quality tender response.
Our team has the capability and expertise to assist with your mining tenders, anytime, anywhere and to your deadline. We work around the clock to deliver and can assemble a team for your next opportunity. We help you win more mining tenders and expand your business by securing contracts. Our experience includes writing tenders to local, state and federal government, as well as private industry.
For assistance with your next bid, RFP, RFI, RFQ, or other tender response call our Director, Jason Cooney, today on 0410 448 770 or Talk to us today