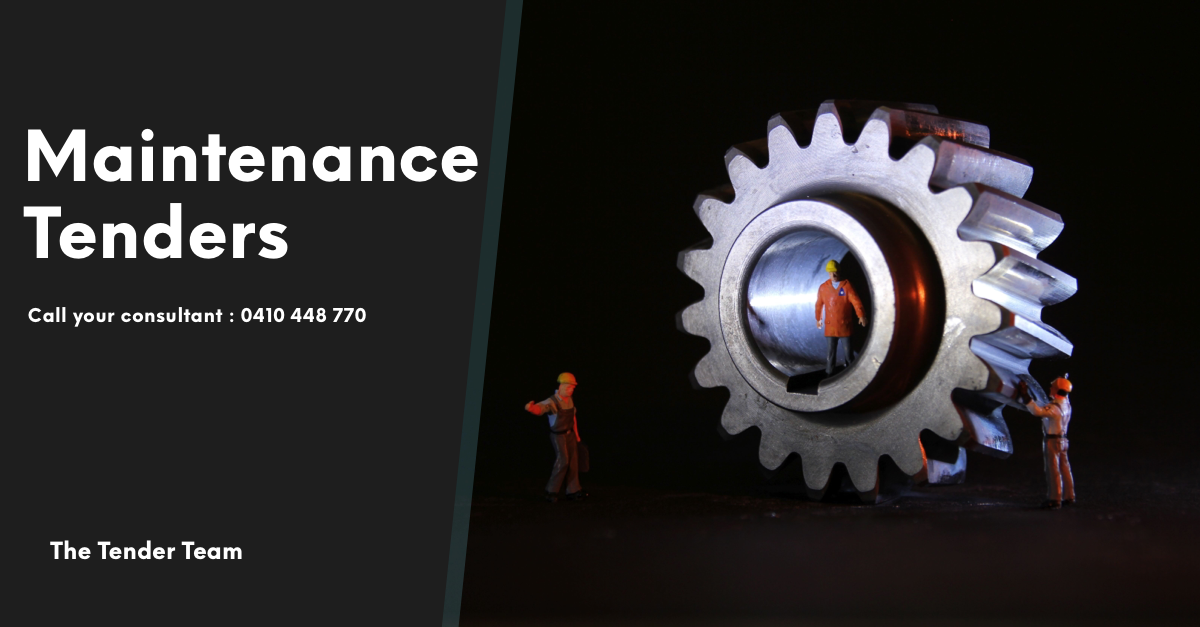 Helping you win Maintenance and Facilities Management Tenders
Property and infrastructure owners understand the importance of maintenance and facilities management. Maintenance and facilities management, as well as taxes, are often their largest expenses. They generally adopt formal procurement processes by releasing an RFP, RFT or ROI for maintenance services. These contract opportunities are alwyas highly competitive.
It is important to differentiate your service from your competitors in order to secure contracts. Companies generally need to look at the opportunity from the viewpoint of the buyer, and ensure you make your service or product offering fit with their needs. Not the other way around.
Strategies and tips to win more tenders
Strategies you can employ to win more bids and tenders:
Personalise your bid – Take the time to personalise your bid. Include a 'Message from the CEO' at the start of the bid as well as quotes and comments from your proposed team throughout the bid. Ensure these correlates to their respective areas of expertise. For example, have your safety officer write a comment in the safety response, and your team leader or proposed supervisor provide a quote any question on team structure.
It is also important to detail a connection between your previous experience and your proposed team through your personnel. I.e. talk about how your proposed team members have a track record of working together successfully, and detail which of your previous maintenance contracts they have been involved in.
Demonstrate an understanding of the contract or facility – Site visits are a valuable opportunity to gain insights into the contract. Whether you are bidding for a mining maintenance contract, or a facilities maintenance contract for a high rise building, it is critical that you demonstrate a knowledge of the contract beyond the specifications.
When attending the site, take note of potential issues and areas where you can add value. Where there are challenges, incorporate these into your pricing so you don't get caught out. Identify areas where you believe the current service provider is providing a substandard service – and focus on these areas in your response.
When you are writing the tender or response, ensure that in the executive summary as well as the body of the response, you demonstrate these insights. Talk about how your service will extend beyond the client's expectations, and where you believe you can deliver improvements.
Provide detailed case studies – Just about ever tender will ask for you to talk about your previous experience and even provide case studies. It is critical that you go into the required detail when responding to such questions.
In addition to providing a summary of your previous contracts or projects, for each of the projects you should include:
The value of the contract
The term of the contract
What challenges were encountered and overcome.
Which key personnel worked on the contract, in what capacity, and will they be part of the proposed team for this contract.
Were there any safety issues on the site?
What value-added services were delivered as part of the contract?
What initiatives did you put in place for the contract to deliver a more efficient, better quality service?
Focus on being local – This is particularly relevant for government contracts, but also applies to the private sector. It is important that you demonstrate your support for the local economy, employment and local community.
Not only does this make sense from a service efficiency perspective, but it help ensure that the downstream economic benefits of the bid or tender flow through to the local economy.
Look at it from the perspective of say a local Council searching for a maintenance supplier for public buildings. If two suppliers are proposing to provide a similar service at a similar price, but one supplier employs a local apprentice, is based in the local area, purchases off other local suppliers and supports the local football team, Council will generally preference this supplier. There is often considerable weighting put on this in the criteria.
How we can help
Our team of tender writing consultants have completed hundreds of facilities management and maintenance tenders. Whether it be for a mine site, or a large building, we understand maintenance and facilities management and can put a winning tender or proposal together quickly and effectively.
Our team can help write and submit your next facilities management or maintenance tender and will:
Write the content
Assist with price estimation (if required)
Introduce graphics to ensure it is professionally presented
Ensure it is professionally presented
Leverage on our knowledge of the maintenance and facilities management industry to provide insight and guidance
Draft professional CVs for your personnel
Identify and convey your win themes and key points of difference.
Areas we service
We help business across Australia secure facilities management and maintenance contracts. Our writers have helped businesses in Darwin, Sydney, Melbourne, Hobart, Brisbane and Perth writing winning maintenance and facilities management proposals. Our experience extends to securing contracts with all levels of government as well as the private sector.
The nature of FM and Maintenance tenders
Whether it's an RFP, RFI, RFT, EOI or just a simple request for quote, Maintenance and FM bids are highly competitive and often have only subtle differences. They often apply to a number of industries at once, for example, electricians, plumbers and carpet cleaning.
There are common and unique requirements for each tender specific to your individual service or industry. Most property owners understand the need and advantages of specialization in the maintenance and building industry. This gives smaller operators have a good chance at winning work.
Regardless of the size of your organizations, clients expect you to jump through all the same hoops to win maintenance tenders, including work health and safety, human resource management, and site induction requirements.
They often ask for documentation of policies that many firms simply do not have nor do they have the resources or time to create. Here at The Tender Team, we have many of the necessary documents on file as templates.
The nature of the business usually ensures they are long term contracts, making it even more important to put your best foot forward when applying for maintenance tenders. On a positive note, they are often for new projects where there is no incumbent, such as defence projects.
Our consultants have completed hundreds of maintenance tenders and are skilled in project managing the process as well as drafting responses. Furthermore, we have templates in place of many of the policies and procedures requested, saving you time and money in drafting them.
Give us a call today to pick our brains and talk about how we can assist with your next bid or tender.