Maintenance Tenders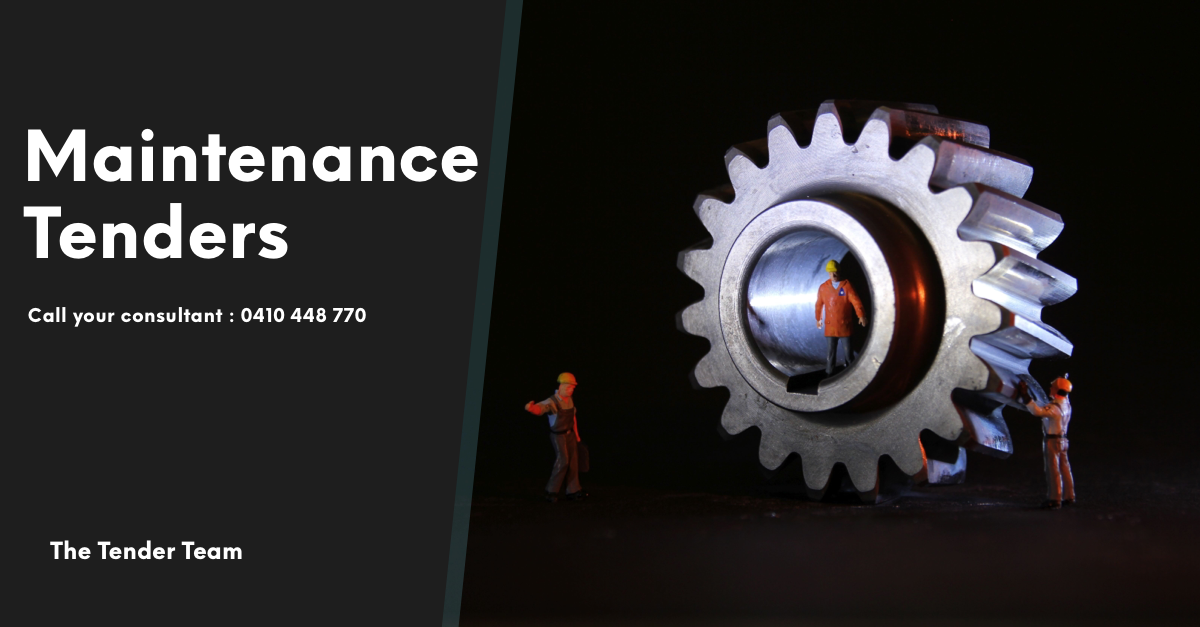 Helping you win Maintenance and Facilities Management Tenders
Property and infrastructure owners understand the importance of maintenance and facilities managmeent. Maintenance and facilities management, as well as taxes, are often their largest expenses and winning tenders in facilities management more often than not involves a thorough procurement process and intense competition.
How we can help
Our team of tender writing consutlants have completed hundreds of facilities management and maintenance tenders. Whether it be for a mine site, or a large building, we understand maintenance and facilities management and can put a winning tender or proposal together quickly and effectively.
Our team can help write and submit your next facilities management or maintenance tender and will:
Write the content
Assist with price estimation (if required)
Introduce graphics to ensure it is professionally presented
Ensure it is professionally presented
Leverage on our knowledge of the maintenance and facilities management industry to provide insight and guidance
Draft professional CVs for your personnel
Identify and convey your win themes and key points of difference.
Areas we service
We help business across Australia secure facilities management and maintenance contracts. Our writers have helped businesses in Darwin, Sydney, Melbourne, Hobart, Brisbane and Perth writing winning maintenance and facilities management proposals. Our experience extends to securing contracts with all levels of government as well as the private sector.
The nature of FM and Maintenance tenders
Whether it's an RFP, RFI, RFT, EOI or just a simple requirest for quote, Maintenance and FM bids are highly competitive and often have only subtle differences. Maintenance and FM proposals often apply to a number of industries at cones, for example, electricians, plumbers and carpet cleaning. There are common and unique requirements for each tender specific to your individual service or industry. Most property owners understand the need and advantages of specialisation in the maintenance and building industry. This gives smaller operators have a good chance at winning work.
Regardless of the size of your organizations, clients expect you to jump through all the same hoops to win maintenance tenders, including work health and safety, human resource management and site induction requirements. They often ask for documentation of policies that many firms simply do not have nor do they have the resources or time to create. Here at The Tender Team, we have many of the necessary documents on file as templates.
The nature of the business usually ensures they are long term contracts, making it even more important to put your best foot forward when applying for maintenance tenders. On a positive note, they are often for new projects where there is no incumbent, such as defence projects.
Our consultants have completed hundreds of maintenance tenders and are skilled in project managing the process as well as drafting responses. Furthermore, we have templates in place of many of the policies and procedures requested, saving you time and money in drafting them.
Give us a call today to pick our brains and talk about how we can assist with your next bid or tender.