When looking to hire an in-house or freelance bid writer the following skills and attributes are critical.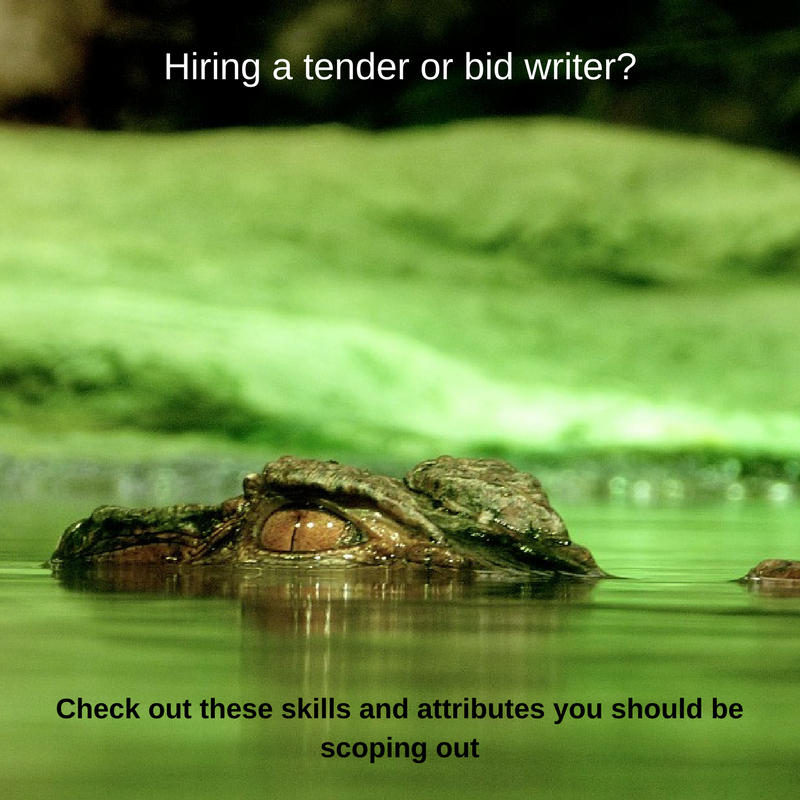 Ask yourself, does the potential candidate or consultant display the following?
Calm Under Pressure  –  No matter how well organised a bid writer is, there will always still be tender submissions that go down to the wire. This can be a reflection of the pride taken in the proposal, late input from subject matter experts, or last minute changes due to a late addendum. Either way, you need a bid writer who will work methodically under pressure and stay composed.
Assertiveness – A bid writer needs to be assertive. He or she must have the confidence and gravitas to challenge internal stakeholders, propose alternatives and sometimes simply say no.
Writing skills – Writing with flair in a persuasive manner is a given. However, a bid writer also needs to be able to quickly understand content, restructure it and edit it so it is simple and informative. Bid writers need to be able to write quickly, maintain win themes throughout the bid, and keep a consistent tone.
General Knowledge – Many bid writers often find themselves in unfamiliar territory with certain tenders as the subject matter can be highly technical and industry specific. A good bid writer will identify these circumstances and adapt by absorbing general knowledge for a specific area so that their grasp of the basics is enough to communicate adequately with someone more technically inclined. A desire to gain more general knowledge is a prerequisite for a worthwhile bid writer.
Time Management – Often, bid writers will have more than one tender to consider in the course of their activities. Proper time management is necessary for not only submitting tender responses before the deadline but ensuring that each one has been completed to their fullest and more reasonable extent.
Graphics – Although we champion the use of experts, sometimes given time or financial constraints, the bid writer will need some graphic design skills to ensure the bid flows well.
There's our take on what you should be looking for. Contact The Tender Team on 0410 448 770 if you need assistance hiring a bid writer or writing your next tender!