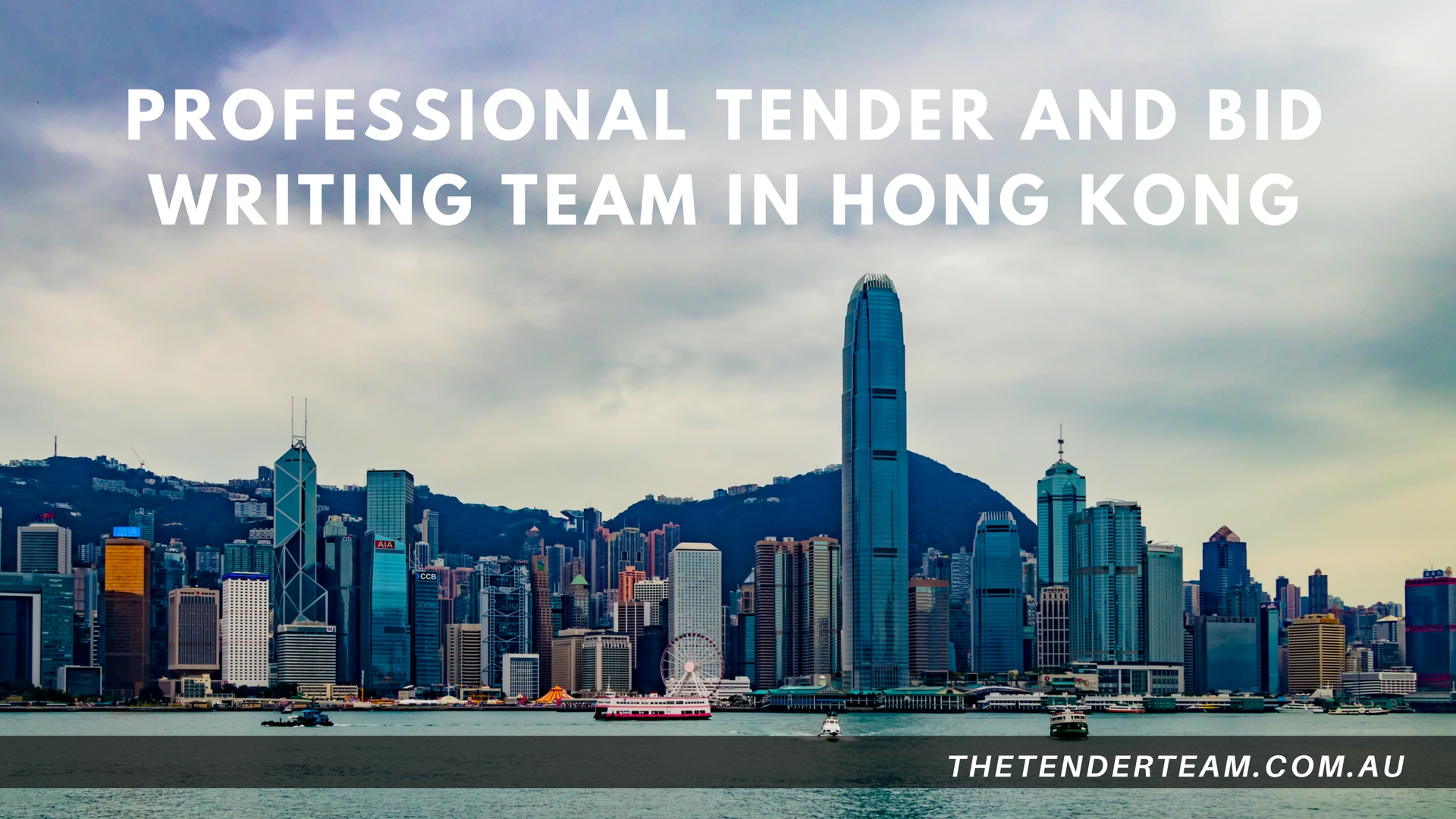 The Tender Team offers a range of tender writing services to businesses and corporations in Hong Kong and mainland China. Our Tender and Bid Writing team in Hong Kong consists of five well-trained and experienced tender writers who know how to write winning tenders.
Their experience stems from a range of in-house roles in a variety of industries including:

Professional Services
Product Supply
ICT
Manufacturing
Defence
Medical
Engineering
Construction among others.
We have drafted tenders to a range of major companies in Hong Kong including China Mobile, Cnooc, AIA Group, Jardine Matheson, CLP Holding, Swire Pacific, MTR and China Resources Lan.
Our tender and bid writing team in Hong Kong will draw on our experience to help you win more tenders by:
Tailoring content – We will draft appendices and supporting documentation to suit the requirements of the client. These may include Health and Safety and Quality Assurance documents that have been requested as part of the tender.
Strategic tender and bid advice – We provide strategic advice tailored specifically for your business to increase tender approvals.
Making a bid or no-bid decision – To make sure you are only going for tenders which you have a reasonable prospect of success of winning.
Initial content drafting and tender review – We draft the initial content required for the winning tenders as well as reviewing content you have drafted to ensure it is in line with industry best practice.
Our Tender and Bid Writing team in Hong Kong has over 7 years of experience providing unbeatable service and understands the importance of close constructive communication when working through the tender process.
Our Philosophy
Our Tender and Bid Writing team in Hong Kong adopt the approach that each and every application should not only be thoroughly reviewed, revised and analyzed. We adopt the philosophy that   'Success is where preparation and opportunity meet' – and will work hard to provide you with the best prospects of success for your tender response.
Winning new business through the RFP and Tender process is not always easy, however at The Tender Team we are confident in our expertise, experience, and ability to help you grow your business. We do not simply provide a tender service but also go through the entire tender process with the idea to teach you the foundations that you will then use for all future tender services.
Therefore working with us is not only a fixed cost with a base output but instead provides a valuable investment into the future of your business, whereas other tender writing services may simply do the job, our Tender and Bid writing team in Hong Kong will give you the tender tools/knowledge you need for the future.
For more information regarding the unbeatable service our Tender Team offers please email info@thetenderteam.com.au and one of our Hong Kong based tender writers will call contact you within 12 hours.