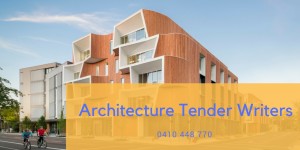 Architecture tenders are often lengthy processes which place significant strain on any architectural practice, as well as significant costs.
Pre-existing relationships are often crucial to success in architectural tenders as is a track record of developing innovative designs to the subject industry.
Strategies to win architectural tenders
Our team employ a range of strategies to help our clients in architectural design tenders, government tenders for architects and architect tenders including:
Detailing where you added value as part of our previous experience and case studies. This means when you are responding to questions on previous experience, you need to go further than simply describing your previous experience. You need to ensure in the projects you include as examples you:

Highlight which of your key personnel were involved and if they will also be involved in the proposed project.
talk about buildability – and detail where buildability was considered in previous projects.
Provide context to the previous project and talk about where you considered the views of all stakeholders in the design process.
Focus on how you project managed the design process as well as the actual designs. Was the previous client a government client? if so – it's a good idea to talk about how you liaised with all the relevant stakeholders and incorporated government specific requirements into the design.

Ensure you highlight your relevant experience – Every single aspect of the bid or proposal should be tailored to ensure it is compelling. This takes time and effort but is worth it in the long-run. Let's assume you are tendering to provide design services for an extension to a primary school in your local area. The type of experience you should include includes:

Projects and experience in designing other primary schools.
Projects and experience designing buildings in the local area and in close proximity to the school.
Projects and experience that involve servicing a government client.

It is also important that you tailor your CVs to the opportunity and not simply provide a generic CV as part of your response. Let's take the school example again. You want to present yourself as a specialist in the design of education institutions (primary school education) as well as a specialist in your local area.
Put forward a team with sufficient depth – Key person risk is a concern for most organisations when procuring professional services and architecture is no different. The client will want to know that:

You have the capacity to deliver.
If something happens to your lead architect, you have another principal architect with the capacity to deliver.
You have a solid team that has the relevant experience at all levels, and will deliver value to the client by delegating work down as appropriate.
Bid / No bid process
More often than not, companies tendering for Architectural services take a conservative approach to procurement. They want to see value, a strong track record in their industry, a commercial focus and a demonstrated understanding of their requirements. The client will generally be working closely with you, so the look and feel of your proposal as well as a flexible, adaptive approach through the process is critical to be successful in architecture tenders.
Once the opportunity cost of your time is taken into account when competing for architecture tenders, its easier to see why the bid / no bid decision is so important. We recommend the first and most important step is to review the specification document. When conducting this review, you need to have a critical eye. Read between the lines and think about if you have the experience they are looking for.
If a school is looking to design and build a new wing with additional classrooms and a large PV system, then architects with experience in the education sector would be looking to apply. So if you were a Tier-1 Architecture Firm with a history of delivering quality high-rise projects in City Centre areas, you would be best to consider weather it is work the opportunity cost for tendering at all.
On the other hand, you may be a suburban architecture office with close ties to the local community, as well as a track record entailing delivering projects to the local Tafe, and a few private schools, then this would be a valid opportunity.
How we help
Our team of writers are experienced in helping architectural firms across Australia write winning tenders and bids. We will help you:
Find tender opportunities
Develop a strategy
Design graphics and infographics
Write your response
Project manage the response
We assist architectural firms across Australia to secure contracts including in New South Wales, Queensland, Victoria, Western Australia, South Australia, Northern Territory and Tasmania. This includes all major capital cities such as Sydney, Melbourne, Brisbane, Perth, Darwin and Hobart. We have also helped architectural firms in regional areas to secure contracts and look forward to assisting your firm, irrespective of where you are located.
Price and Relationships
Architecture tenders more often than not come down to price and relationships. The government is generally price sensitive, and the profile of the buyer often provides a great indication of how price sensitive they will be.
An educated buyer will value service and quality over price, whilst some architecture tenders are designed to generate competitive tension and drive down the price.
Call The Tender Team on 0410 448 770 for a quote for us to project manage and draft your next Architecture Tender.