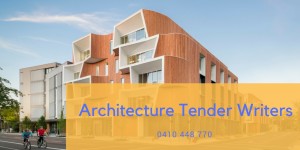 Architecture tenders are often lengthy processes which place significant strain on any architectural practice, as well as significant costs. Pre-existing relationships are often crucial to success in architectural tenders as is a track record of developing innovative designs to the subject industry.
Bid / No bid process
More often than not, companies tendering for Architectural services take a conservative approach to procurement. They want to see value, a strong track record in their industry, a commercial focus and a demonstrated understanding of their requirements. The client will generally be working closely with you, so the look and feel of your proposal as well as a flexible, adaptive approach through the process is critical to be successful in architecture tenders.
Once the opportunity cost of your time is taken into account when competing for architecture tenders, its easier to see why the bid / no bid decision is so important. We recommend the first and most important step is to review the specification document. When conducting this review, you need to have a critical eye. Read between the lines and think about if you have the experience they are looking for.
If a school is looking to design and build a new wing with additional classrooms and a large PV system, then architects with experience in the education sector would be looking to apply. So if you were a Tier-1 Architecture Firm with a history of delivering quality high-rise projects in City Centre areas, you would be best to consider weather it is work the opportunity cost for tendering at all.
On the other hand, you may be a suburban architecture office with close ties to the local community, as well as a track record entailing delivering projects to the local Tafe, and a few private schools, then this would be a valid opportunity.
Price and Relationships
Architecture tenders more often than not come down to price and relationships. The government is generally price sensitive, and the profile of the buyer often provides a great indication of how price sensitive they will be. An educated buyer will value service and quality over price, whilst some architecture tenders are designed to generate competitive tension and drive down the price.
Call The Tender Team on 0410 448 770 for a quote for us to project manage and draft your next Architecture Tender.